Founded by U.S. Senator Gaylord Nelson in 1970, Earth Day was created to inspire awareness and appreciation for the Earth's environment. On April 22nd we will celebrate another Earth Day and recognize there is still much work to be done. We continue to strive to protect our planet and our resources. We've been happy to watch our industry move towards utilizing more eco-friendly materials and renewable resources.
The key to sustainable resources is that they naturally replenish at a quicker pace than other resources. Good examples include products that are made from bamboo and cotton.

Bamboo is the fastest-growing plant on Earth. It has been clocked surging skyward as fast as 121 cm (47.6 inches) in a 24-hour period. Here are some of our favorite bamboo products: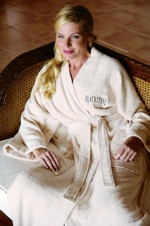 Turkish Bamboo/Cotton Robe
Environmentally friendly bamboo has many qualities that make it an excellent choice for fabric. More absorbent than cotton, bamboo is soft to the touch and exceptionally durable. A choice that is certain to make a lasting impression.
Bamboo Pen
Write down more ways to recycle, reduce and reuse with this eco-friendly pen! The bamboo gives it a natural feel, while the black, blue or green plastic parts are completely biodegradable.
Bamboo Keyring
The key to being eco-friendly! Give any set of keys a natural, earthy feel with this rectangular bamboo keyring.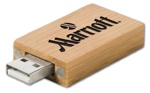 Bamboo USB Drive
USB drives have been among our most popular corporate gifts these last few years. And this Bamboo USB Drive is a great addition to our bamboo line of products.
Bamboo Frame and Clock
Candid – a natural moment of time! Capture that idea with this bamboo photo frame and clock. With its neutral appeal, it will look lovely anywhere you put it.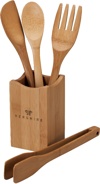 Bamboo Kitchen Set
The natural way to cook! This eco-friendly, 4-piece bamboo kitchen utensil set will keep you cooking for years. It includes an FDA compliant fork, spoon, spatula, and tongs in a matching bamboo holder.
Bamboo 4-Coaster Set
Any drink will sit naturally on one of these bamboo coasters. This eco-friendly set includes 4 coasters and a matching holder.
Bamboo Card Holder
Your business cards will fit naturally in this eco-friendly, arch design desktop business card holder. It is carefully constructed from sustainable bamboo.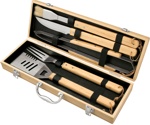 Bamboo BBQ Set
Fire up the grill and cook el natural! The utensil handles and even the case in this eco-friendly, 5-piece BBQ set are made of bamboo and steel. It includes a serrated-edge spatula with bottle opener, BBQ fork, tongs, knife, and a basting brush.
Bamboo Pen Holder
A natural look! This eco-friendly, two-tone striped desktop pen holder is made of sustainable bamboo. Your favorite writing instruments will be sure to stay secure.

Cotton is another great example of a sustainable resource. And like bamboo, there are plenty of great promotional items made from cotton.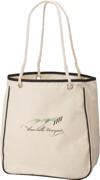 Natural Cotton and Organic Cotton Totes
Lots of natural cotton and organic cotton totes available in many shapes and sizes. The Pulire Organic Cotton Tote is one of our favorites. This lovely tote has 29″ strong rope handles secured with durable metal eyelets, an extra wide 8″ gusset, and a nice black trim.
All Cotton Oven Mitts
No need to play hot potato with this oven mitt! It has a thick quilted texture and a small hanging loop for easy storage. Available in classic black, blue and red.
All Cotton Aprons
Keep clean while you whisk around the kitchen or grill! This eco-friendly indoor/outdoor apron has two front pockets, a neck strap and waist tie straps. Choose from three great colors: black, blue and red.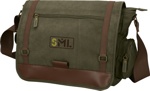 Cotton Canvas Messenger Bags
Military inspired messenger in more ways than one! Durable and eco-friendly, it has a zippered pocket on under the front flap, several more pockets with Velcro and zip closures for accessories, and a large main compartment.
Organic Cotton T-Shirts
There's nothing more comfortable than a good cotton t-shirt. And apparel is still the most purchased of all promotional merchandise.
These are just a few of the unique and innovative earth-friendly products you can tie into your next promotional campaign. Next time we'll talk about some great products made from recycled content!