As Earth Day quickly approaches, we continue to look for interesting items that fit well within an eco-friendly promotional campaign. This week we'll focus on products made from recycled content.
There are two types of recycled material available for manufacturing: post-consumer and post-manufacturing. Post-consumer is previously used material that comes directly from products such as used water bottles that have been shredded, purified and reformed into another product. Post-manufacturing material comes from scrap raw material left over from producing another product. This material otherwise would be thrown away.
Did You Know: Recycling plastic saves 70% of the energy used to create new plastic. Paper recycling saves 40% of the energy required to make a new product.

Recycled Piggy Bank
A fun promotional novelty, take your pick from piggy banks made partially from retired currency, denim scraps, yellow pages or electronics.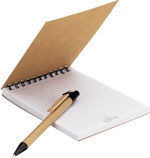 Recycled Notebook Jotter Set
Take note – on recycled paper, that is! The natural, 60-page, top spiral bound mini jotter and matching pen are held neatly in a transparent snap pouch.
Recycled Duffel Bag (made from water bottles)
Carrying this black duffel will feel so natural! Eco-friendly, the overall bag is made of 90% recycled material, 80% post-consumer recycled pet, has 26″ handles, 56″ adjustable webbed shoulder strap, zip closure, and a front pocket.
Recycled 4" x 6" Photo Frame
Eco-friendly frames are as meaningful as the photos within them. This one is 4"x6" and has a hinged easel back made from recycled Kraft paper and backing board.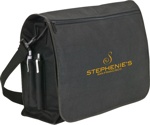 Recycled Messenger Bag (made from water bottles)
Be the messenger for going green! This black messenger bag is made of 90% recycled material, Fabric: 80% post-consumer recycled PET. The removable/adjustable webbed shoulder strap makes it easy to carry all the items you tuck into the front flap pocket with Velcro closure, zippered front pocket, side elastic pocket and side pen holders.
Recycled Sport Bag (made from recycled PET)
A bag worth sporting! Perfect for the gym, sports field or any adventure, it features a drawstring closure, front pocket, and comes in black, blue and red.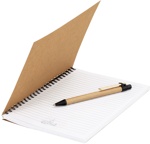 Recycled Notebook Journal Set
Writing has never felt this natural! This eco-friendly spiral notebook, equipped with a matching pen and transparent snap pouch, is filled with 60 pages of recycled paper.
Recycled Note and Flag Set
Post it again! Made of recycled paper, this flag and note set appeals to an eco-friendly lifestyle. It comes with five colors of flags (20 each) and a 65x65mm light yellow note pad with 20 sheets.

Encore Recycled Pens & Pencils
A great line of pens and pencils made from at least 30% post-consumer waste. These items are made from recycled denim, currency and newspapers. Get write on it.
Newsprencil
Made from 75% recycled newspaper and 25% new paper, five colors to choose from and brass-colored ferrules with green erasers make this an ecological sound investment in our future. Easy to sharpen and splinter free. Taper reveals recycled newsprint!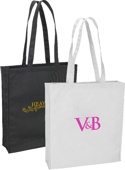 Recycled Tote (made from water bottles)
Promote the three R's with this eco-friendly tote! Reduce, reuse and carry around this bag made with 98% recycled material. Fabric: 80% post-consumer recycled PET. It has 26″ handles, 4″ gusset and comes in classic black or white.
Still need more ideas? Just give us a call. We're full of them!