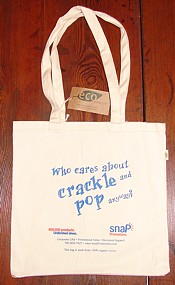 Sales of organic cotton apparel and home textile products increased 35% in 2009 to $4.3 billion, according to a report released this week. Over the past decade, beginning in 2001, the annual average growth rate for organic cotton sales is 40%. "Many people thought the recession would mean an end to all things organic, but the market reacted in quite the opposite way," said LaRhea Pepper, senior director of the Organic Exchange, which produced the report.
Organic Exchange, which released the 2009 sales data, projects the global organic cotton market will increase an additional 20%-40% in both 2010 and 2011, resulting in an estimated $6 billion market by next year.
While the list of top organic cotton buyers features retail giants like Walmart and Nike, it also includes a few of our favorite promotional products, including the Organic Economy Tote. Made from 100% organic cotton, we liked these totes so much we bought them for our own self promo.