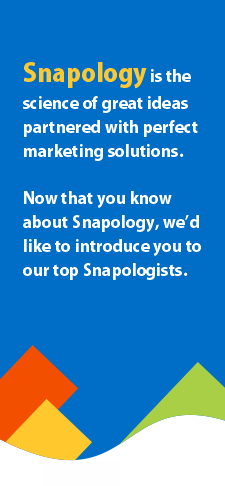 Kristin is the president and owner of Snap Promotions LLC. Having founded the company in 2009 with her husband, Lee Eldridge, Kristin set out to create more than a promotional products business. She wanted to create promotional partnerships. "We have a vested interest in the success of our clients. And nothing is better than watching our clients grow!"
Kristin began her journey in marketing as the vice president and director of sales for Absorbent, Ink from 2003 to 2009. She was involved in virtually all facets of a rapidly growing and successful business. Through Kristin's time with Absorbent, Ink, she managed a staff that grew from a small group of five to a robust organization with more than 40 employees across multiple departments. As director of sales, Kristin was responsible for working with all of Absorbent, Ink's primary accounts including the University of Kansas, M-A-C Cosmetics, Color Wheel, Google and Universal Records.
A graduate from the University of Kansas, Kristin is active with several community groups, charities and professional organizations including: PEO, Lawrence Rotary, Lawrence Women's Network and is a board member for Cottonwood Inc. and the Lawrence Chamber of Commerce.


Angie joined the Snap Team in 2018 and has lived in Lawrence since 1999. She was the owner and co-founder of Love Grub before selling it in 2018. Rexroad, along with her husband Gary, are committed to serving several local charities including Boys & Girls Club, Just Food and Habitat for Humanity. She also spent 11 years working in school district USD 497 with children with exceptionalities.
"The promotional marketing industry has appealed to me for years," explains Rexroad. "Getting to speak with people about their businesses and help them become more successful is a lot of fun. And Snap Promotions has an incredible reputation in the community."


With more than 30 years of experience in marketing, Lee Eldridge has a passion for promotions. Lee's experience includes marketing, design, advertising, copy writing and website development. "I often refer to myself as the jack of all trades, and master of none," he quips. "We love what we do. Every day is hands on with a different client and a new challenge."
As the president of PilgrimPage, Inc., a marketing and design firm located in Lawrence, Kansas from 1993 to 2009, Lee was responsible for launching an online promotional products company called Absorbent, Ink in 2001. During Lee's time with the company, Absorbent, Ink was twice recognized by the Inc. 500 as one of the fastest growing companies in the country, and repeatedly recognized by Counselor magazine as one of the top ten fastest growing distributorships and best places to work within the promotional products industry.
Lee has lived in Lawrence since 1986, and graduated from the University of Kansas in 1989 with a degree in Business Administration. He is recognized as an innovative leader within the industry. Lee is involved with fundraising for a variety of local charities and is on the board at Theatre Lawrence.