Woke up this morning and checked out the forecast. It looks like we'll be in the '90s again today. Yikes! Now that we're officially in summer, we have a few cool products to recommend for your next promotion.

Beach Towels
Available in a many great colors, beach towels are appreciated gifts. Your clients will use them for years to come. My favorite beach towels are the 70″ x 40″ heavyweight towels that are decorated with a tone on tone technique. They're stylish, durable and effective promotional gifts. Very nice indeed.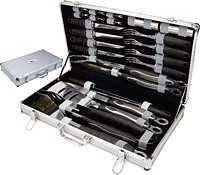 BBQ Sets
Ideal for company picnics or just a unique summer promotional gift, BBQ sets are a personal favorite of mine. They come in all shapes and sizes, from a practical 3-piece set wrapped in a nylon bag to this awesome 24-piece Executive BBQ Set which includes a beautiful metal case. Makes my head swim just thinking about this arsenal of BBQ-ing utensils. Or combine a BBQ set with a custom decorated BBQ Apron and you'll make any grill master flush with excitement.
Beach Balls
Fun at the beach, the lake, the pool or virtually any outdoor event, promotional beach balls are a cost-effective giveaway and a classic summer favorite. Available in a variety of sizes and color combinations, let your imagination run wild. One of our most popular summer promotional items.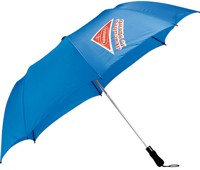 Umbrellas
Promotional umbrellas can stop the rain or protect you from the sun. And this year in Kansas, we've already needed protection from both. Umbrellas come in a variety of sizes, and virtually every color combination imaginable. Mini umbrellas are a fun giveaway and can easily fit in a briefcase or glove box. Standard sized umbrellas are useful fundraisers and can be sold at outdoor events. And if you're sponsoring a golf tournament this summer, the 60″ golf umbrellas provide a huge imprint area for your logo and promotional message.
Remember that not all umbrellas are created equally. My personal favorites are Stromberg Umbrellas. They're very well constructed. Are available in many great colors, sizes and styles. And can be decorated with your logo.

Sport Bottles
Traditionally used during the summer, promotional sport bottles have become popular year round. And talk about variety — there are tons of options for materials, styles, sizes and colors. Nalgene Bottles and Camelbak Bottles are BPA free and are made from an incredibly durable material called Tritan copolyester. Soft-sided bike bottles have followed the trend towards BPA free materials, and are now typically made from recyclable PET. Aluminum bottles are light weight, competitively priced, and carry a high perceived value. And if you want the cream of the crop, stainless steel water bottles are durable and stylish.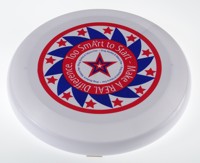 Flyers
Custom flyers are among our most popular summer promotional items. They come in several sizes and tons of great colors. The most popular size is the 9″ flyer, but my favorite is the 117 gram 9.625″ Ultimate Flyer. It's heavier and more durable than other promotional flyers and is available in an eco-friendly option made from 100% home recycled material. Other options include a Dog Safe Ultimate Flyer, Foam Flyers, Glow-in-the-Dark Flyers, Collapsible Flyers and Fling Rings.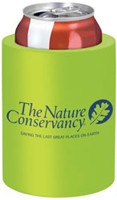 Can Coolers
Koozie remains the premier line of can coolers, and the Original Koozie Can Cooler is still our most popular style. Made from high-quality durable foam, the Original Koozie can maintain your beverage can at 40-degrees or below for 35 minutes. Koozie offers a broad line of can coolers including Collapsible Koozies (ideal for mailings), Metallic Reflections Koozies, Koozie Jersey Can Coolers, Metal Koozies and a cool Football Koozie. But we don't stop there. Another popular style of can cooler is the Neoprene Collapsible Can Cooler. Neoprene is a scuba-like material that insulates well and is very durable.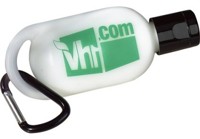 Sun Screen
Help your customers protect themselves from the harsh rays of the summer sun with promotional sun screen. One of our most popular styles is the Shady .5 oz. Carabiner Bottle. Your choice of SPF 15 or SPF 30 sun screen, this product is both water-resistant and sweat-resistant. A smart promotional giveaway.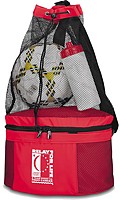 Insulated Bags and Totes
From a simple insulated lunch sack to a rolling insulated cooler with a 34″ extending handle, insulated bags and totes make great promotional gifts. With prices that range from a couple bucks to $50 each, you can find the right style to fit any budget and promotion. One of my favorites is the Koozie Kombo Kooler. This combination backpack and kooler is ideal for sporting and recreational activities. The mesh upper compartment and spacious lower compartment makes this bag very user-friendly. Available in red, blue and black.