I'm full of pumpkin pie and glad to be working inside on this cold Kansas day. I'm not sure that I'm emotionally prepared for the holidays yet. Santa seems to have been busy the last few months filming dozens of commercials. I hope he's had time to run the North Pole. I've been a good boy this year.
With the holidays quickly approaching, it's time to turn our attention to business gifts. If you haven't ordered your corporate holiday gifts yet, there's still time. If you're needing gifts for your employees, clients or prospects, we've got some great ideas for you. And all of these items can be decorated and shipped in less than five working days.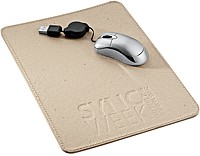 Recycled Cardboard Mousepads
Made from 100% recycled cardboard, this promotional gift is both eco-friendly and affordable. Features the universal recycling symbol debossed on the mousepad. Easy to mail or to include with other promotional materials. Can be debossed with your logo and company slogan. Order as few as 144 mousepads for $2.63 each plus setup charges and S&H. The USB mouse is not included, but we can do those too!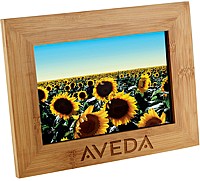 Bamboo Photo Frame
This Bamboo Photo Frame is as handsome as it is  useful. This will truly be an appreciated gift. Bamboo is an easily renewable resource, making this frame another eco-friendly holiday item. Laser etched with your logo, this frame will proudly display your brand and a 4″ x 6″ photo. Includes easel stand for vertical or horizontal display. Order as few as 60 frames for $10.60 each plus setup charges and S&H.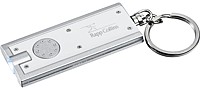 Garrity Lithium White LED Keychain Lite
This L.E.D. light is the brightest and whitest available. Built to provide more than 23 hours of continuous light and years of intermittent light. Features a push-button switch and two lithium button cell batteries included (refillable). Available in blue or white. A useful promotional gift. I use my keychain light all the time! Order as few as 48 keychains for $2.23 each plus setup charges and S&H.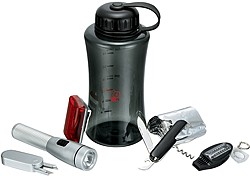 Crossing Excursion Bottle Set
This multi-piece set includes: 34-oz. bottle; 83″ x 51″ safety blanket; flashlight (2 AA batteries included); sewing kit (consisting of red, black, and white thread, 2 white buttons, 1 safety pin, and 2 needles); blinking safety light to attach to a belt or purse strap with on/off switch (2 AA batteries included); multi-function whistle with integrated thermometer (Fahrenheit and Celsius readings), compass, and magnifying glass; and pocket knife consisting of 1 large blade, can opener, flat head screwdriver, bottle opener, awl, corkscrew, tweezers, and tooth pick. Whew! Order as few as 48 gift sets for $18.57 each plus setup charges and S&H.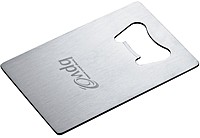 Credit Card Size Bottle Opener
Not that we would ever advocate drinking a bottled beverage or two, but many people seem to like to partake in this activity. Especially around the holidays. And when they do, they'll need a bottle opener with your logo on it. This stainless steel bottle opener fits in a wallet credit card slot. A high-quality and durable giveaway, this bottle opener can be laser etched with your brand. Order as few as 288 bottle openers for $2.77 each plus setup charges and S&H.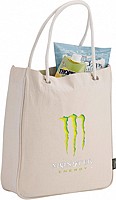 Essential Organic Cotton Carry-All Tote
Made from factory certified 100% organic cotton, this eco-friendly tote features a large main compartment, and durable and soft cotton cording handles attached to the bag with grommet accents. Organic cotton farming techniques maintain soil fertility and reduce toxic pesticides and insecticides that pollute our air and water. This tote is approximately 15″ x 13″ x 4″. Order as few as 48 organic cotton totes for $8.60 each plus setup charges and S&H.
This is just a start. Let us know a little about your corporate gift giving needs and we'd be happy to share some more ideas. Now is the time, whether you're ready for the holidays or not!