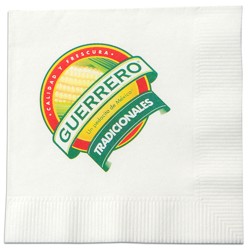 Over the years, one of the most difficult products to find for our clients has been napkins with a full color imprint. You typically have to order very large quantities, and often the print quality has been below our expectations. We had stopped offering full color napkins to our clients because we just couldn't find a product we were proud to sell.
But no more! We are excited to announce that we have found an excellent source for full color napkins.
The print quality is very nice, and best of all, you can order as few as 100 of these custom printed napkins. Napkins are white, and available in all three traditional sizes: cocktail napkins, luncheon napkins and dinner napkins.
Give us a call or email us for details!