We belong to one of the local BNI chapters, and this week is Kristin's turn to give the group presentation. We discussed a number of topics for her presentation and eventually settled on ROI and target marketing. So I thought it would be a good time to touch on these subjects here as well. This is not intended to be an in-depth discussion, but a group of ideas to get your wheels spinning in the right direction.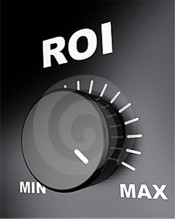 Return on Investment (ROI)
I'm sure most of you are already familiar with this term, but in case you're not, ROI is the cost of a marketing campaign relative to the profit generated during a certain period of time.
Now ROI doesn't have to be rocket science, though it's sometimes a challenge to develop a trackable plan. As a marketing professional, I try to break down the ROI of every marketing opportunity we consider. For our business we start by asking ourselves a few simple questions. How much revenue must we generate to break even on this opportunity? (Though your goal shouldn't be to break even, it's important to know where this tipping point is located.) And what is our projected revenue from the marketing investment? If we can't answer these questions, then it's probably not the right opportunity for us. Or if we don't expect revenues to reach certain levels, we look for other opportunities.
If you're unable to measure the results of your company's marketing plan, you need to reconsider your plan. You need to develop a plan that is measurable, and you must track the results. Can you be successful shooting from the hip? Sure. We all know business owners without a plan who have enjoyed spurts of success. But that's a tough way to achieve success, and it's particularly tough to thrive over the long haul without a good, measurable plan.
Target Audience
Too often have I seen business owners give little thought to their target audience. If you're a plumber, your target audience for a marketing campaign should not be "anybody with water pipes in their house". The broader the audience, the more difficult it is to develop an effective marketing campaign. The more you refine your target audience, the more likely you are to succeed with your next promotion.
Your targeted audience should coincide with how you position your company, and the image you want to portray. A plumbing company can do many things. Is your strategy to be the cheapest plumber in town? Is your strategy to be the company that specializes in installing high-end bathrooms? These would be two very different lists of prospective customers, and in turn, would require significantly different marketing campaigns to be successful.
Conversions
This is where we start to combine our trackable plan with our target audience. How many sales must you generate for your plan to be successful? What percentage of your audience can you convert into a sale? The more refined your target audience, the higher the return you should expect from an effective campaign. Having trouble making these predictions? That's OK. Once again, that's why it's so important to track the results. Not every plan will generate the results you expect. And when presented with the same opportunity again, you can make even wiser decisions because you tracked the results the last time around.
Promotional Marketing
One of the reasons promotional items are effective is because they're typically used to promote to a more refined target audience. Remember, the more refined your audience, the higher your expectations should be to convert prospects into customers. Where a radio spot or TV ad is broadcast (transmitted to a large undefined group), think of promotional marketing as narrowcast.
Good luck, and happy marketing!