I've read several books and articles over the years about transforming employees into advocates. As business owners and managers, one of our greatest challenges is developing comprehensive strategies for recruiting, hiring, developing, rewarding and recognizing our employees. It's these strategies and your company's culture that can turn an employee into an advocate.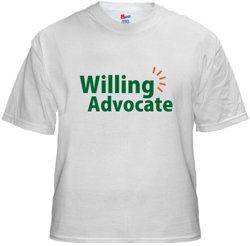 While many companies do a great job of branding and marketing their business to customers, they often overlook branding their business to their greatest asset — their employees. According to Cindy Commander, an analyst for The CMO Group, "Marketers spend significant dollars on a variety of tactics to reach and communicate with customers and promote their brands. However, if employees aren't aligned with and rallied around that brand, then delivery of that brand promise is broken, leading to suboptimal customer experiences, missed opportunities for true brand differentiation, and customer defection. Organizations often underutilize their employees as a channel to connect and build relationships with customers, leading to fewer endorsements of the brand and the organization to customers and potential future customers."
It's our employees who must carry our brand to our customers. Do your employees know what your brand is? Do they know the company mission statement? Can they convey what you do in 30 seconds or less? And as somebody who looks for every opportunity to market our business, there's no reason that you can't take advantage of these opportunities to promote your business to potential customers as well.
Employee Recruitment
Companies attend many types of functions to recruit potential employees such as job fairs and campus visits. It's imperative to sell these recruits on your business. The top recruits will be interviewing you as much as you're interviewing them. What impression do you want to give them? How will they remember your business? The giveaway you choose to give these recruits will tell them a lot about your business. Your first impression may be your only impression.
Hiring and Interviewing
During the interview process consider giving every interviewee a promotional gift decorated with your logo. It's a great way to break the ice and introduce the candidate to your brand. Most companies will interview multiple applicants before filling a position. These people can become positive advocates of your business even when they don't get the job if properly introduced to your company's brand and culture. These people will move on to work for other businesses — businesses that could be potential customers of YOUR business. You want them to remember you, and remember you fondly. The right promotional giveaway is an excellent way to leave them with a positive impression of your company.
Training
Most applicants will require training once they've been hired. Make sure you spend time teaching them about your company's mission and objectives. Whether it's a coffee mug with the company's mission statement printed on it, or a training manual with the company's logo debossed on the cover, every employee must be included and integrated into the company culture. An employee who doesn't understand the company's mission is an opportunity lost.
Awards, Recognition and Incentive Programs
One of the most common frustrations among employees is that they feel unrecognized and under-appreciated. Creating programs for recognizing achievement and service at work is a great way to help develop a positive workplace environment. An employee who truly feels appreciated at work is much more likely to be productive and loyal. One of my favorite programs involves allowing staff to nominate other employees for employee of the month, and then vote on the winner. Nothing makes somebody feel more appreciated than recognition by their peers.
Beyond recognizing your employees, incentives are often a great way to motivate your staff. Have clear objectives and rules of achievement, and reward your top performers with promotional gifts.
Wellness Programs, Safety Programs and Team Building Events
Wellness programs have become a popular strategy for many progressive companies. Rewarding employees for improving their health is good for them, and good for you. Safety programs are another way to recognize desired behavior, and reward those who engage in safe conduct. Team building may sound cliche, but it's vitally important. Employees must feel engaged by the company as well as their peers to become true advocates for your business. Participating in community events is one way to help solidify your team while building brand awareness. Volunteering time to help non-profit organizations not only helps the community, but instills employee pride in your business.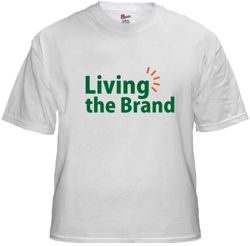 Promotional Apparel
Many businesses utilize corporate apparel and staff uniforms for employees. But what about businesses that do not require employees to wear company apparel? If your staff likes your company, they're probably willing to wear corporate apparel whether you require it or not. One strategy is to pick a handful of items such as polos, hoodies and windbreakers, and offer them to your staff at reduced prices. Items like these that can be embroidered can typically be ordered in small quantities, and decorators typically don't care if you mix and match different types of items if the embroidery is the same. You can limit options and colors that support your company branding, but allow your staff to pick sizes and products that best fit them personally. If they won't wear it, it doesn't do you any good.
Employees have a vested interest in the success of your business. But if you don't actively engage them with your business, and recognize them for their achievements, you'll never convert them into true advocates. Commander goes on to explain, "Employees who actively live the brand create significant benefits for both the customer and the organization. Customers of organizations with employee brand advocates enjoy better customer service, greater anticipation of and ability to have their needs met, and more attentiveness to their voice and feedback. The organization also enjoys the benefits of word-of-mouth marketing, greater profitability and financial results, and a more differentiated brand."