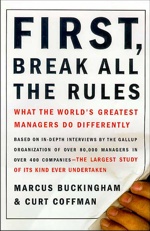 Like many people, I've continued to look for ways for self-improvement. As a small business owner and entrepreneur, much of what I have learned about business has come from experience. Learning on the job. And a lot of trial and error. A few years ago I was faced with running a business that had rapidly grown from a staff of five to more than 40 full-time employees in a few short years. My duties and responsibilities changed significantly. And I quickly realized how little I knew about managing people. I was glad to have found First, Break All The Rules, What The World's Greatest Managers Do Differently by Marcus Buckingham and Curt Coffman.
While I enjoy reading about business, leadership and motivation, I'm particularly drawn to books that have a legitimate methodology to their process and conclusions. First, Break All The Rules does this as well as any book I've ever read. This book is based on data from ongoing surveys conducted by the Gallup Organization over a 25 year period. They've interviewed more than 80,000 mangers across many industries trying to determine what makes a great manager. And some of the results will certainly surprise you. It did me.
What rules do these great managers break? "Before they do anything else, they first break all the rules of conventional wisdom. They do not believe that a person can achieve anything he sets his mind to. They do not try to help a person overcome his weaknesses. They consistently disregard the Golden Rule. And, yes, they even play favorites."
Are you a great manager? Would you like to be a better manager? Understanding what creates a satisfied and productive staff is a great place to start. Find out what really motivates employees. Whether you're a small business owner with a handful of employees, or a corporate executive at a Fortune 500 company, I highly recommend First, Break All The Rules.