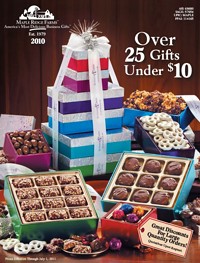 Can you believe the holidays are right around the corner? We have many great ideas about holiday gifts for your customers and employees. One of our favorites? Maple Ridge Farms. We've worked with them for years, and they've never let us down.
Some of my personal favorites include the gourmet brownies and cookies gift baskets, and the gift boxes with nuts and chocolates. Maple Ridge Farms offers an incredible variety of edible treats and presentation choices ranging from wooden gift boxes to towers. And not only do they have tasty treats, they have ham, cheese and assorted gift tubs.
Follow this link to their online catalog for tons of great ideas, then just give us a ring and let us know what you need!