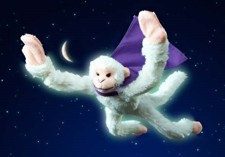 I am so pumped. Imagine the excitement, when out of the dark comes the Glow in the Dark Screaming White Snow Monkey. A promotional item sure to catch their imagination and attention. Why monkey around with boring promotions, when our Flying Shrieking Monkey will help your message soar?! Shoot it across the room and it screams back at you!
Click here to open the full sales literature (145kb PDF).
To see my original post about my Flying Marketing Monkey, click here.