Research has shown that scent enhances consumer product memories. According to the website Lets Get Scented, "Scent marketing is becoming an incredible tool as brands discover the role scent plays in connecting with customers on an emotional level. It is most effective when combined with other sensory triggers, such as sight, sound and textures to create a unique customer experience. Scent can trigger a memory or desire that influences a purchase decision. Across industries, businesses are using scent as part of multi-sensory marketing strategies to enhance customers' experiences of a location and its products or services."
The promotional products industry has been expanding into scented products. One of my favorites are these new Good Scents Pens.  They're available in several wonderful scents including chocolate chips, mocha latte, strawberry fields, vanilla dream (my favorite), green meadow, lemon zest and orange crush (available soon).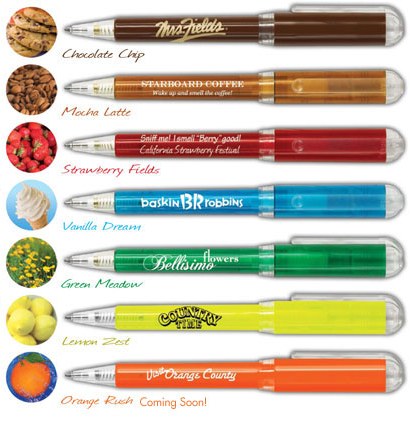 And better yet, these pens are made in the USA with 50% renewable plastic. Eco-friendly and USA made make these pens a Scentsational promotion.