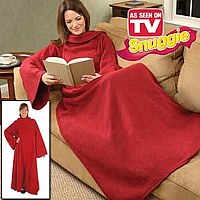 Q. What looks like a blanket, has sleeves, keeps you warm from head to toe, and has sold more than four million units worldwide?
A. The Snuggie.
And now you can order the Snuggie decorated with your logo. A fun gift for your employees and favorite clients. It certainly will get them talking.
If your budget doesn't work for the Snuggie, remember to ask us about the Hugme and the Couch Cozie!