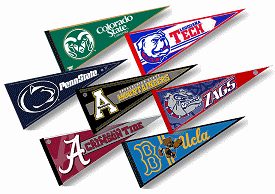 With thousands of college football fans celebrating the the 2010-2011 season, the Promotional Products Association International (PPAI), has released a list of the most popular college-themed promotional products to help any fan root their team to greatness. Tangible advertising used to promote products, services or companies, promotional products can be found almost anywhere and in virtually any form, even game day giveaways.
Whether they're handed out by event staff or hurled into the stands by a team mascot, fans young and old can't get enough of their team-themed freebies. These promotional product MVPs range from wearables to noisemakers, hand fans to foam footballs. Among the most popular game day giveaways are:
Shirts, hats and other wearables
Noisemakers
Rally towels
Lanyards
Magnets and decals
Posters and signs
Water bottles and cups
Mini footballs and basketballs
Branded stress balls
Key chains
Businesses small and large also approach college sports with the same fervor and excitement as fans. In addition to handing out branded products at games and tailgating events, they often send staff, vendors and other business associates team-themed products. The most popular options include:
Stadium cushions and folding chairs
Wearables (t-shirts to watches)
Lanyards and key chains
Golf tees
Car decals and bumper stickers
Phone covers and related tech items
Coolers
Umbrellas
Calendars and magnetic calendars
Pens
Pennants
College sports bring a very large and diverse mix of fans together. It's not surprising then that everyone from insurance companies to telephone service providers jump at the chance to get in the game. Next time you're cheering on your alma-mater or just lending your support to an underdog, take a second to look at the name on your koozie or rally towel, you never know when they might come in handy.
Source: PPAI