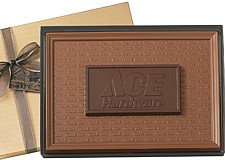 A great way to get a prospect's attention? Custom chocolate gifts. Few gifts will deliver the impact of chocolate. It excites the senses like nothing else. You'll be the talk of the office when you drop off these tasty treats. And there are so many options available that you can certainly create the perfect gift for your next promotion.
My favorite is the Two Pound Executive Gift Bar. It's a lot of chocolate, and can be custom molded with your logo and promotional message. Available in milk chocolate, dark chocolate or as a two toned (milk and dark) chocolate bar.
Another one of my favorites are the premium truffles in a beautiful gift box. Or the chocolate covered cookies. Or the chocolate covered nuts. Or the chocolate bars with custom wrappers. Yum.
Click here to view just a few of our available options. You'll be glad you did. And so will your customers!