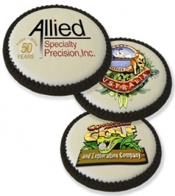 Want to create come buzz with your next promotion? How about imprinting your logo directly on to some delicious chocolate or vanilla cookies? Custom imprinted with edible inks in vibrant full color, these 3″ cookies are as tasty as they are beautiful. Each cookie is individually wrapped and can ship standard ground even in warm weather. They are certified Star-D kosher, and are proudly made in the USA.
But wait, there's more! Regularly priced beginning at $1.79, these cookies are on sale through the end of  July for $.99 each.
My mom always understood that the quickest way to my heart was with a plate of cookies. Now you can utilize promotional cookies to get to the heart of your top prospects! Call us for details.
Note: Minimum order of one case required (180 cookies) and must be ordered in case increments. Prices do not include setups, S&H or applicable taxes.