Sandals, flip flops and clogs make fun promotional gifts. Ideal for travel agencies, resorts, or to promote an upcoming event, promotional footwear will make a unique impression on your customers. And some of them will even make a unique impression in the sand.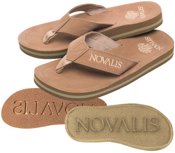 Kauai Flip Flops
The Kauai are high-quality custom leather flip flops. Made with an 18mm EVA/rubber sole, embroidered nubuck leather straps and leather insole with recessed foot bed, arch support, and toe lift. The Kauai is available with the optional die-cut talking "Logo Footprint" that leaves an impression of your logo in the sand. Excellent for President's Clubs, high achievers, or any customer who wants the very best corporate custom logo flip flop. Similar to Rainbow® brand sandals.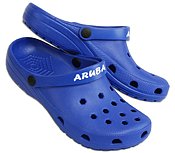 Clogs
These custom logo clog shoes are made with a lightweight quality EVA foam, and are waterproof and anti-bacterial, similar to Crocs™ brand footwear. Custom printed straps will showcase your name or logo. Comfortable and durable, these clogs also feature non-slip traction sole, perfect for all outdoor activities, and are a unique corporate logo gift, for school fund raising, or for corporate travel. Printed in the USA.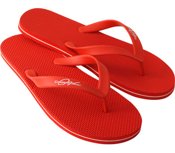 Tourista Flip Flops
The new domestic custom logo Tourista flip flop sandals are designed for those with limited budgets and high expectations, and blow away other inexpensive flip flops. Utilizing a quality PE rubber non-slip insole and real rubber straps (no pvc!), the comfortable Tourista makes a unique custom corporate gift, for school fund raising, gyms or for other clients wanting to buy bulk budget custom logo flip flops. Printed in the USA.
Just call us for more great ideas in promotional footwear. Your feet will be glad you did.