Our poor blog! It has been ignored for longer that I care to admit. But it's been a busy year. And as the year comes to a close, it's a great time to look back at some of our most popular products.
Tech-oriented products have been around for a long time, but every year new products are introduced into our industry. A couple of them have bubbled to the top of our list of most popular promotional gifts.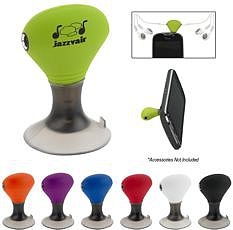 10. Phone and Tablet Stands
Like many of our products, stands are available at a variety of price points. We have inexpensive giveaways as well as high-end corporate gifts. One of my favorites is the Ear Bud Splitter Phone Stand. The suction cup easily attaches to the back of your phone or small device, allowing you to prop up your phone for easy viewing. Remove the suction cup cover and the stand transforms into a splitter for your ear buds. Now two people can listen at once. Very handy! If you're looking for a nice gift, you should ask us about our SOLO Tablet Cases, a retail brand available to our industry.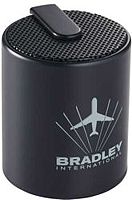 9. Bluetooth Speakers
Do you get tired of trying to listen to music or watch a movie using the little internal speakers in your electronics? Me, too. Most cell phones and tablets have bluetooth capabilities. And we have bluetooth speakers that can be imprinted with your logo. If you have a select group of customers or employees, these make excellent gifts. The Solo Speaker is a rechargeable speaker that connects to your bluetooth enabled device within 10 meters of the speaker. Perfect for travelers, or in an office to deliver the music that your iPhone, iPad, Android OS device, or other Bluetooth enabled device is meant to.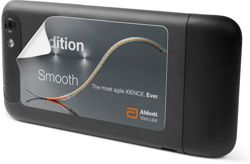 8. Micro Buff Screen Cleaner
No more smudges! Clean your screen with a soft microfiber cloth. The Micro Buff and Micro Buff Mini are a great way to promote your brand with a tech-savvy gift. The Micro Buff utilizes re-positionable "Sticky Pad Technology" that allows it to grip tightly to the back of most gadgets. Leaves no sticky residue. Or if you prefer, instead of sticking the cloth to the back of your device, you can stick it to a reusable card for your purse or wallet. The cloth is printed in beautiful full color.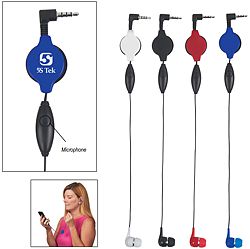 7. Ear Buds
Available in a variety of colors and styles, ear buds are inexpensive and useful. Travelers use them during flights and layovers to avoid disturbing others while watching movies. They're great for runners, music lovers and people who work in quiet environments. And kids. Whew. I think my kids use them so they don't have to listen to me sing along to their favorite songs. The Retractable Ear Bud with Microphone is available in several fun colors, and offers a nice imprint area for your logo.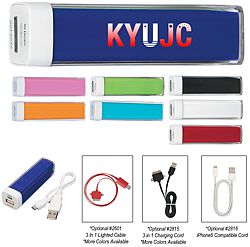 6. Power Banks (Battery Chargers)
As these continue to come down in price, their popularity will continue to rise. Power banks allow you to give your electronic devices a quick charge when you might not have easy access to traditional charging sources. The Deluxe Traveler's Mobile Charger is a portable lithium-ion battery in an ABS plastic shell. This power bank includes a standard USB connector cable to charge battery from your computer or any USB port with a power supply, and cotton strap with nickel-plated split key ring. Output capacity is 1000mA. Charging capacity: 100% for iPhone® & Smartphones; iPad®: 15% for iPad® 1, 2 and 3 – 20% for iPad® Mini; 100% for iPod® and digital music players.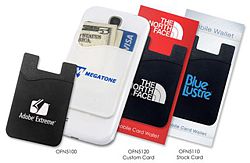 5. Silicone Wallets
It's not always convenient to carry a wallet or purse. But if you want to travel light, a silicone wallet that attaches to your cell phone is a convenient way to carry your ID, money and credit cards. A Silicone Wallet with a re-positionable adhesive sticky back is a fun and functional giveaway. Available in a variety of colors and styles. The Roadrunner Silicone Wallet is available with a stock or custom card that gives this giveaway the feel of a retail product.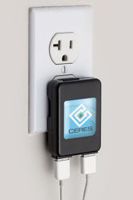 4. USB Wall Chargers
Much like the Power Banks, USB Wall Chargers have become popular promotional gifts. Excellent for people on the go, travelers, or those who need a convenient way to charge their devices while at work. This Dual USB Wall Charger is a universal charger with two USB ports to simultaneously charge two phones, using your device's USB cable. Output: 5V/1A/5W. The plug blades can be folded inside the charger for easy and convenient portability. And this product comes standard with a full color dome imprint. High-perceived value and a useful gift.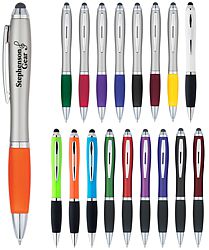 3. Stylus Pen
Another great way to stop the smudges! At least some of them. As we transition from our old laptops to multi-functional tablets, Stylus Pens have become even more useful. Tablets like the Surface are utilizing touchscreen technologies across many applications. The Satin Stylus Pen is not only one of our favorite stylus pens, but one of our favorite promotional pens for under a dollar. Features a rubber grip for comfort and control, twist action mechanism for the pen, and a stylus on the the top. Available in a variety of popular colors!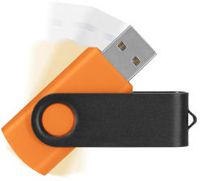 2. USB Drives
This year one of our most popular tech gifts gets knocked down a peg. USB Drives have long been not only our most popular tech gift, but one of our most popular corporate gifts across all product categories. I guess second place isn't all that bad. While USB Drives are available in many shapes and designs, our most popular drive is the Mix 'n' Match Swivel Drive. Features a capless design so you never lose your cap. Just swivel the clip and plug it into your computer. And you get to mix and match across a variety of clip and body colors. A great way to customize your drive to reflect your next promotion.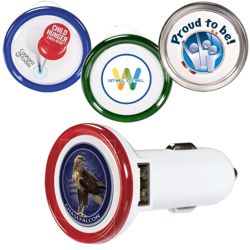 1. USB Car Chargers
And this year, our number one selling promotional technology gift is the USB Car Charger. When you select a USB Car Charger, make sure it charges the devices you need to charge. Not all are created equal. And not all chargers are intended to charge more demanding devices such is iPads and tablets. The Deluxe Round USB Car Charger is an excellent choice. Features dual ports and a LED ring that helps illuminate your logo in the dark. The white USB port is for all apple products such as iPod®, iPhone®, iPad®; and the black USB port is for Samsung®, HTC, Blackberry®, smart phones, and other devices.